Posted by Ozark Mountain Leather on Jan 1st 2023
last updated 5/11/2023
One of the best things about buying an Ozark Mountain Custom Leather rifle sling or leather shotgun sling is not are they only completely handmade here in the USA, but you can build your own with all the customizable options. Check out the build your own rifle sling here.
You can personalize the sling with many options, including leather color, hardware color, thread color, 5 font choices, and over 120 custom stamp options. One of the most popular things our customers enjoy doing is picking out custom stamps to help personalize their rifle or shotgun slings.
We currently have 148 custom stamps, and our inventory keeps growing. Our stamps range from scriptures to military emblems. If you don't see what you are looking for, feel free to contact us to see if we have what you are looking for or if we can get it made for you.
Custom stamps that we do not already have may include a unique slogan, scripture, emblem, symbol, or logo; in most cases, we can get it made for you for a small one time fee. Feel free to contact us to discuss.
We have taken photos of all the stamps we currently have in stock and tried to label them so you can see them here. Please check the last day updated at the bottom of this post, and we will try to keep this up to date for you and our future customers. We tried to get it in alphabetical order or as close as possible without having to redo all our older graphics. The list does run from A to Z.
Again, feel free to contact us to see if we have what you want or if we can get it made for you.
We look forward to making the next custom and personalized rifle sling and shotgun sling just for you.
Our custom "Build Your Own Rifle Slings" and "Build Your Own Shotgun Slings" make great one of a kind gifts.
Last updated 5/11/2023.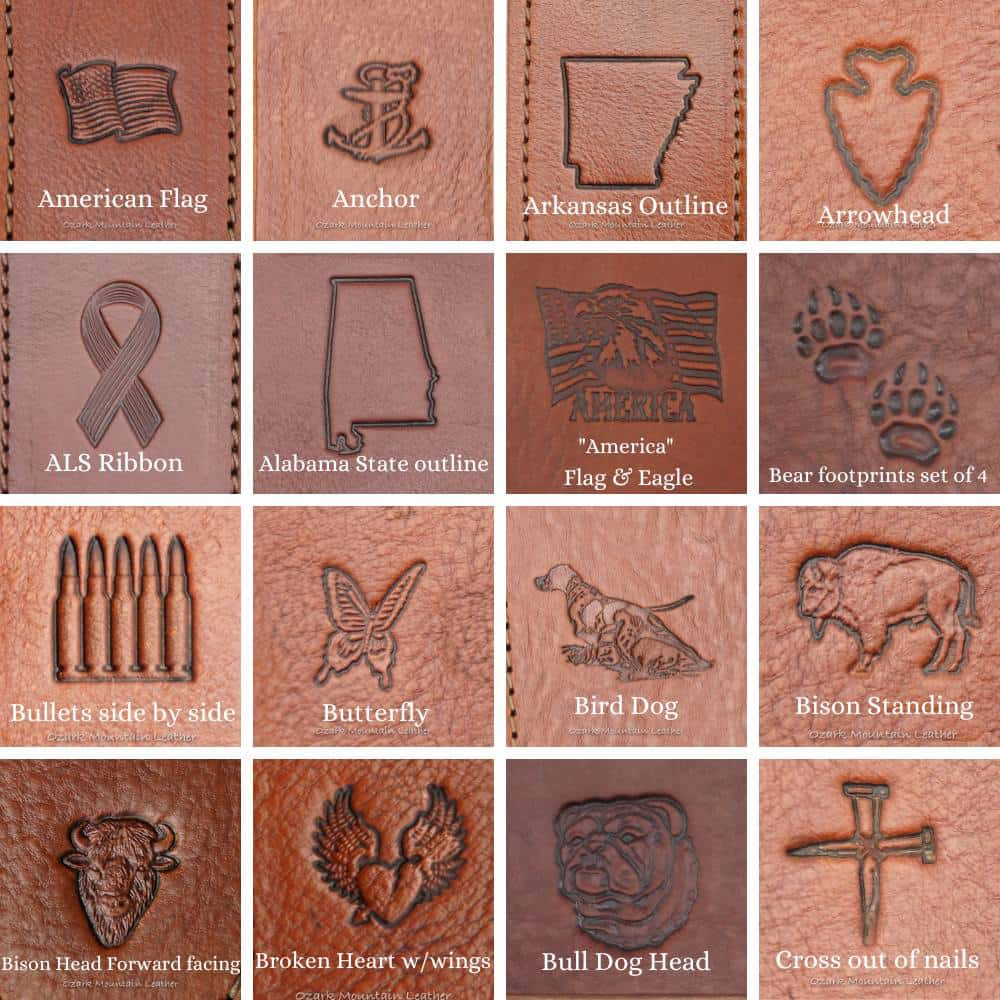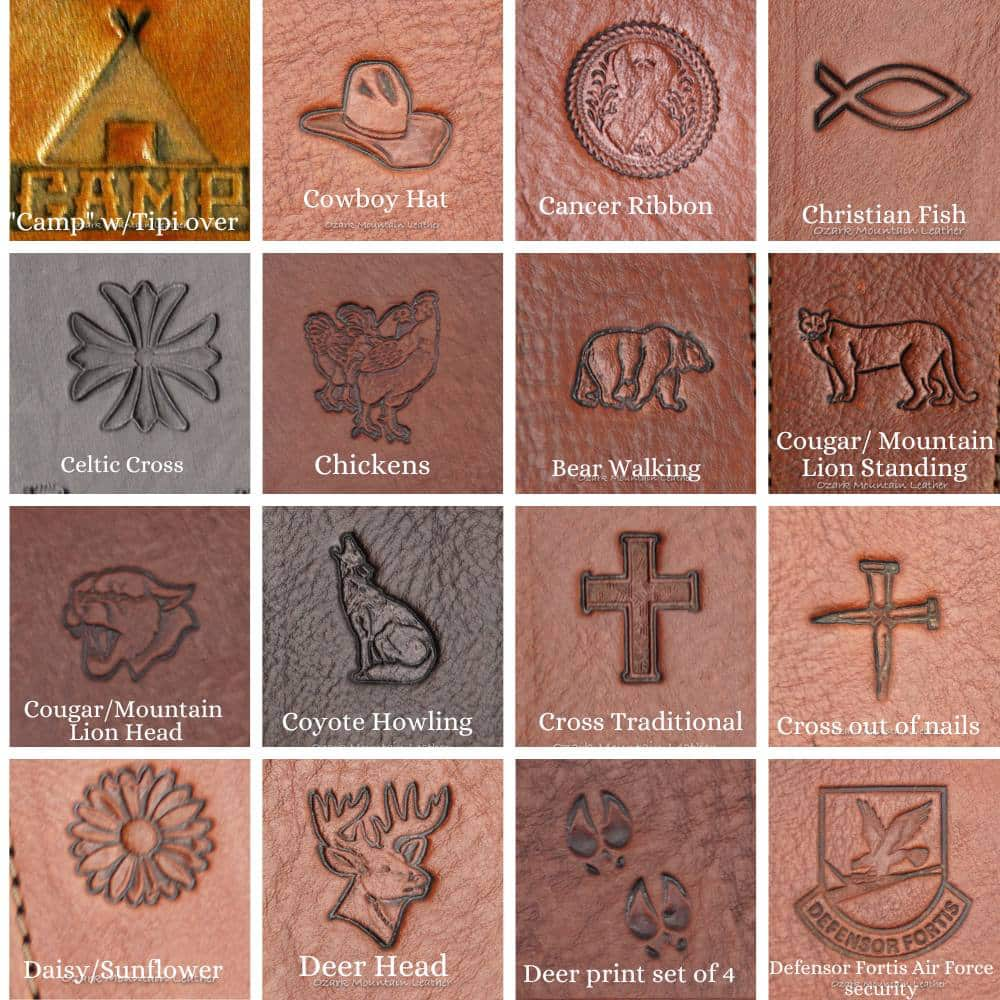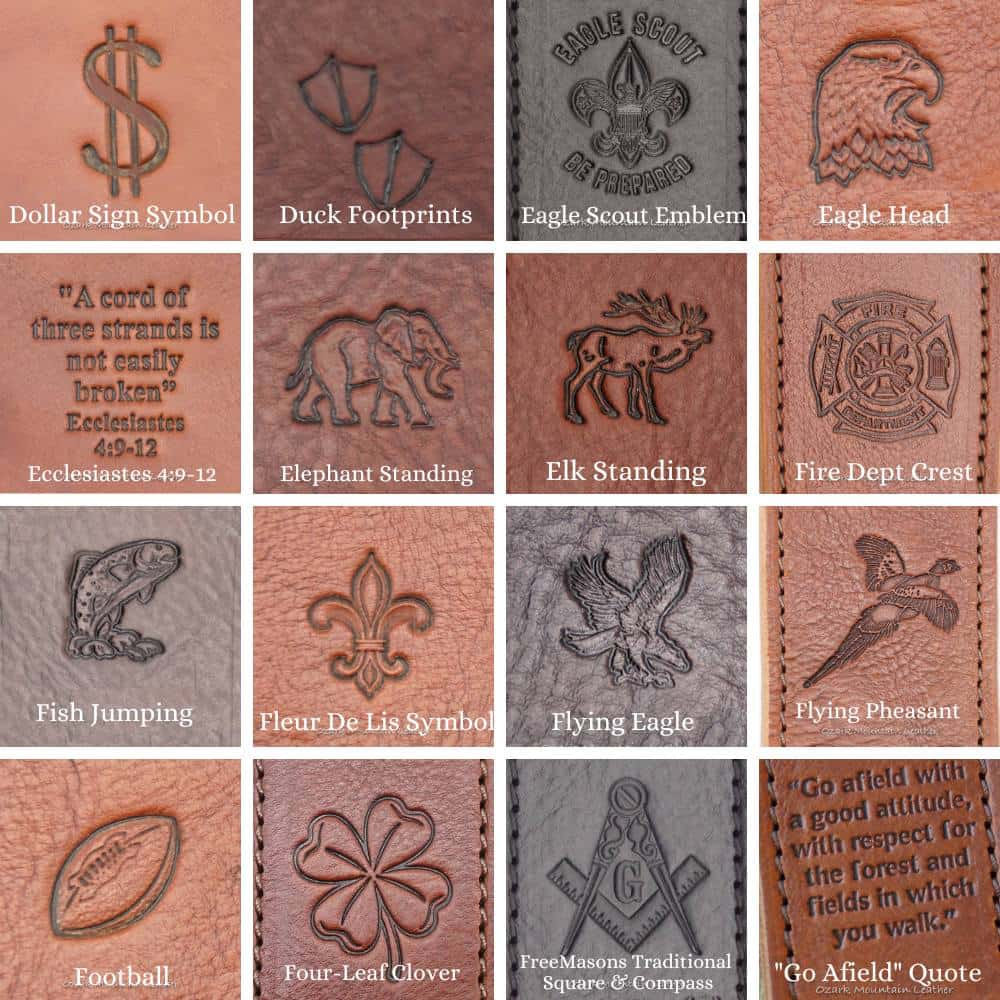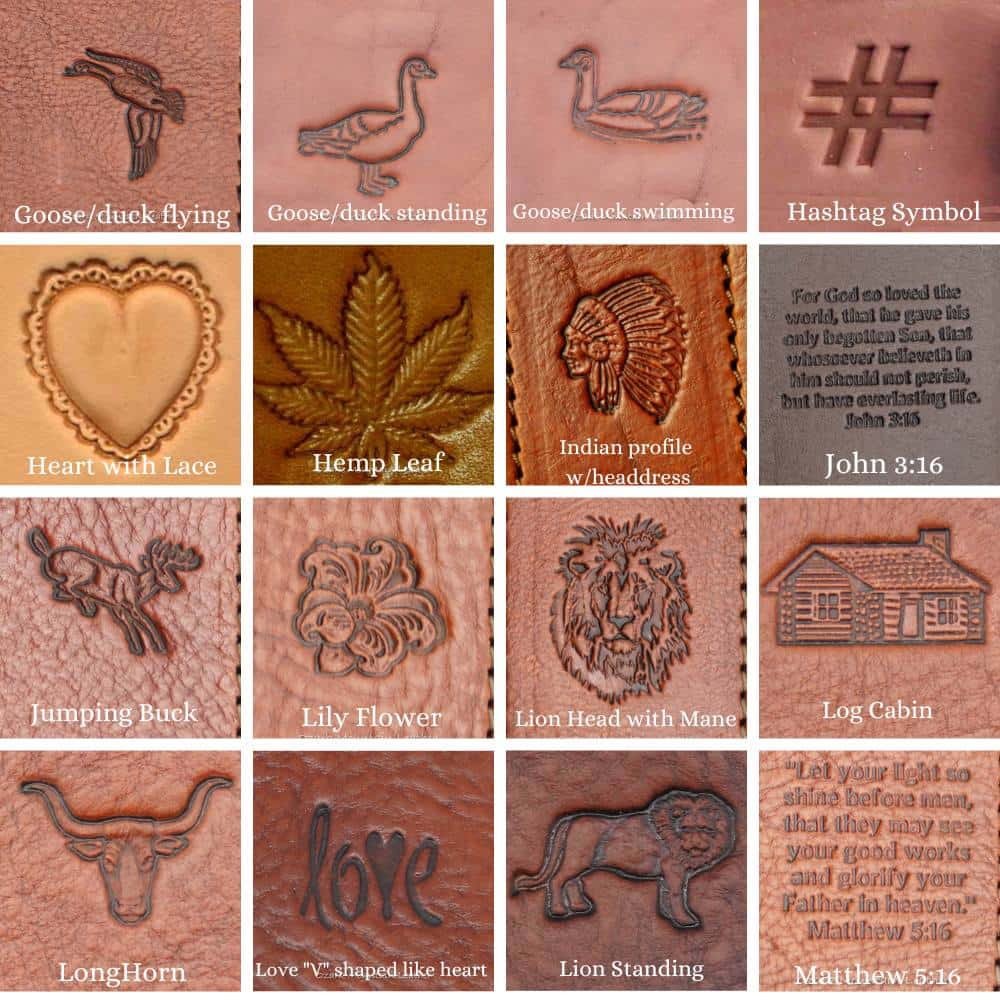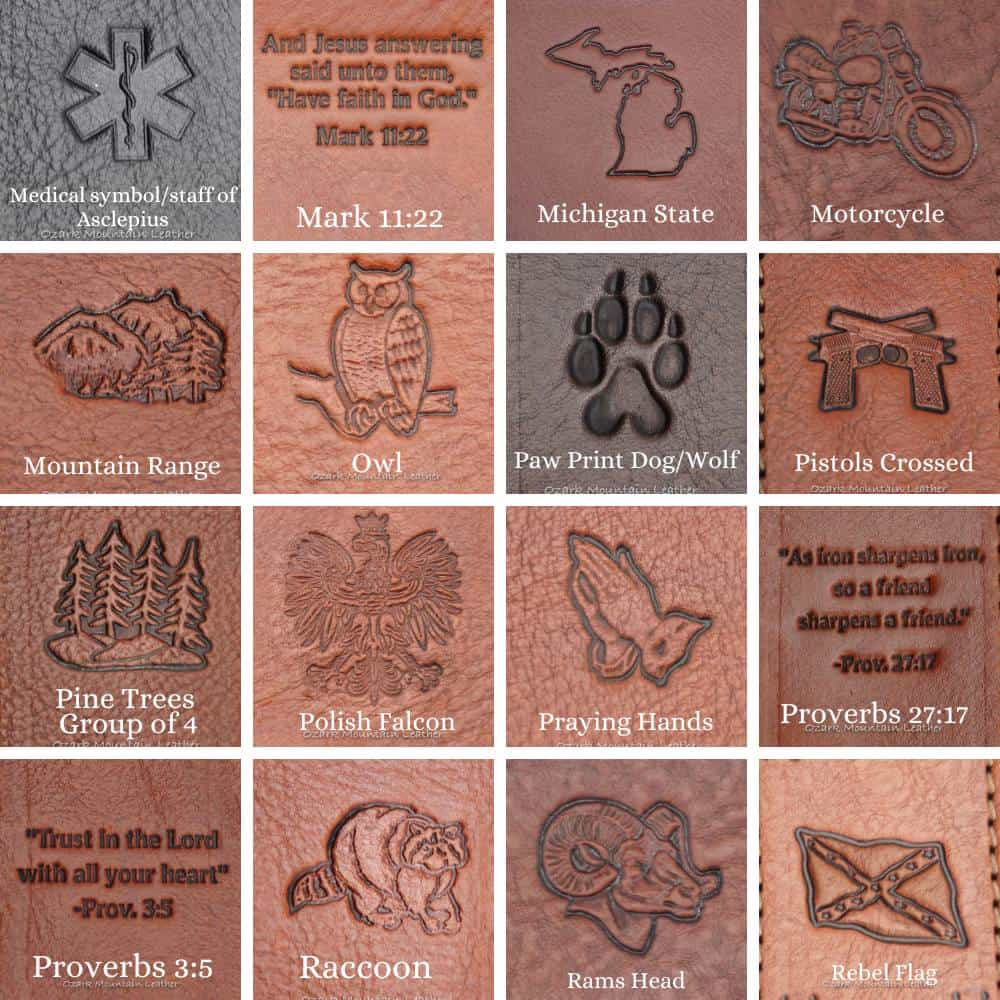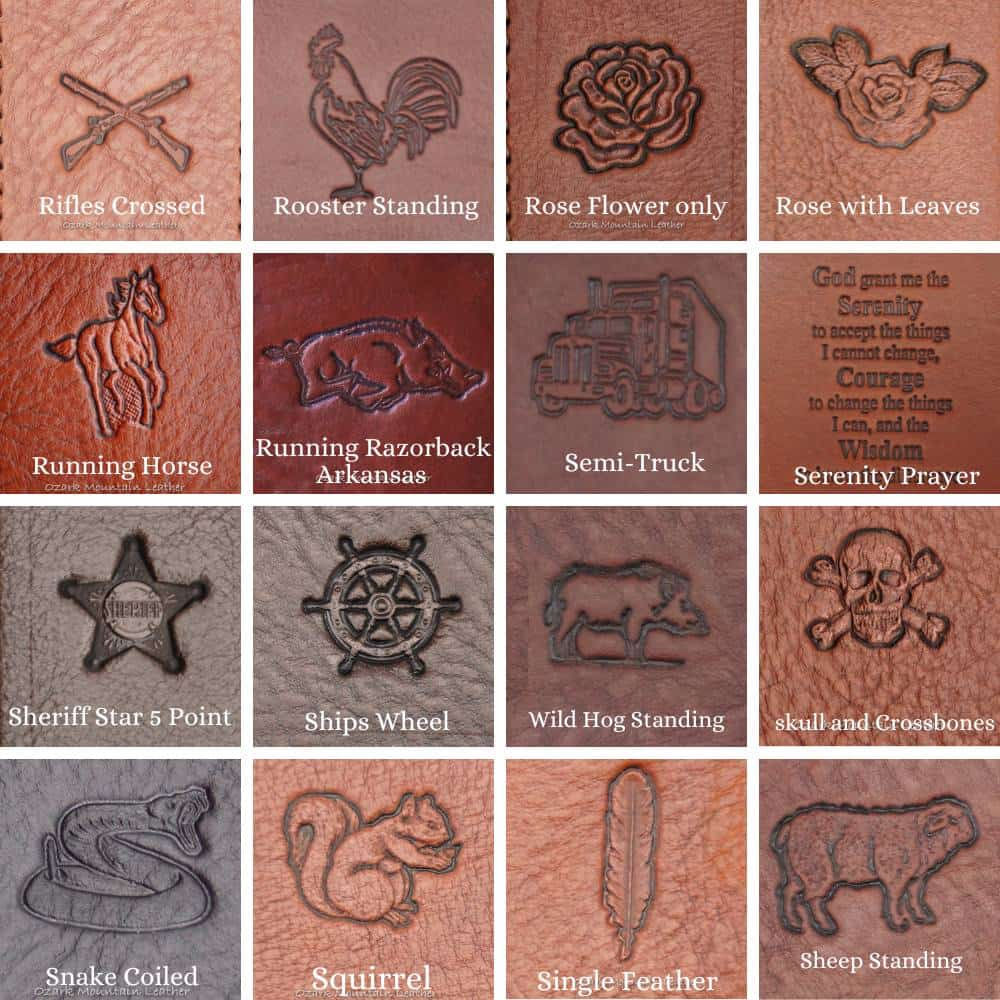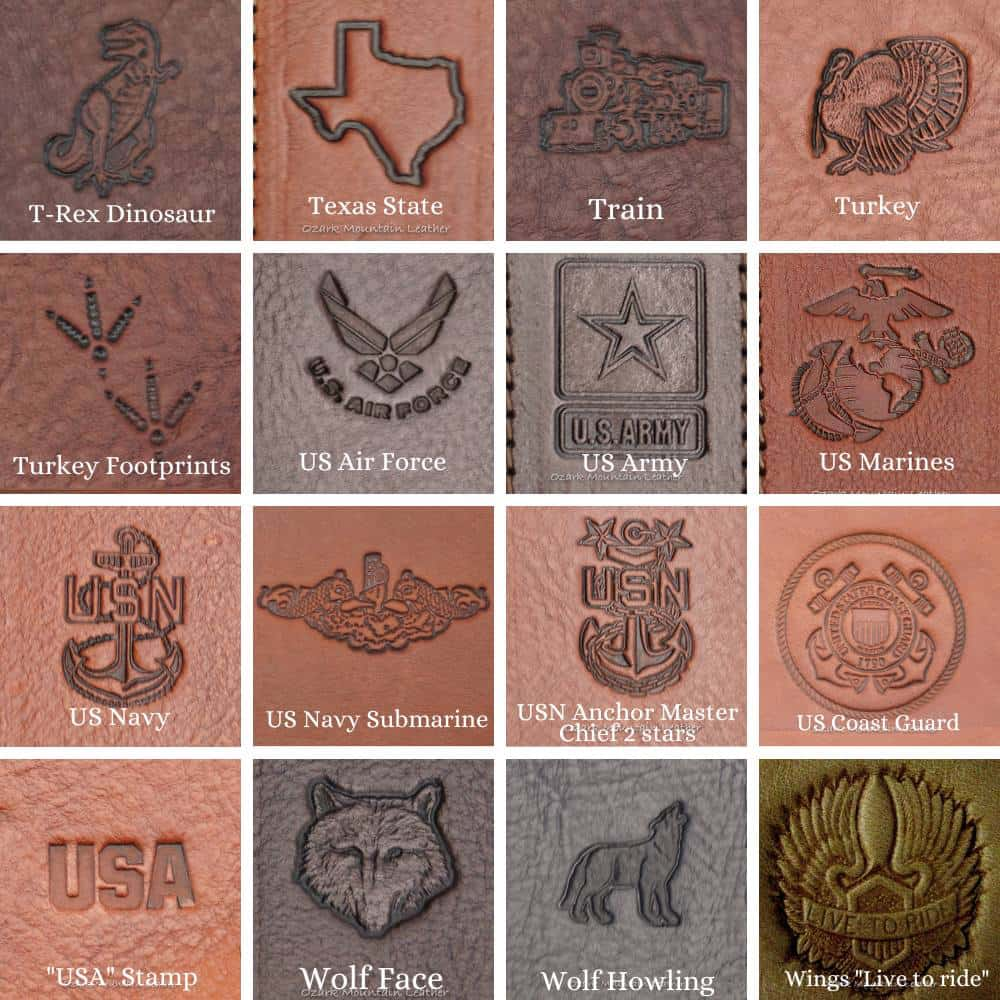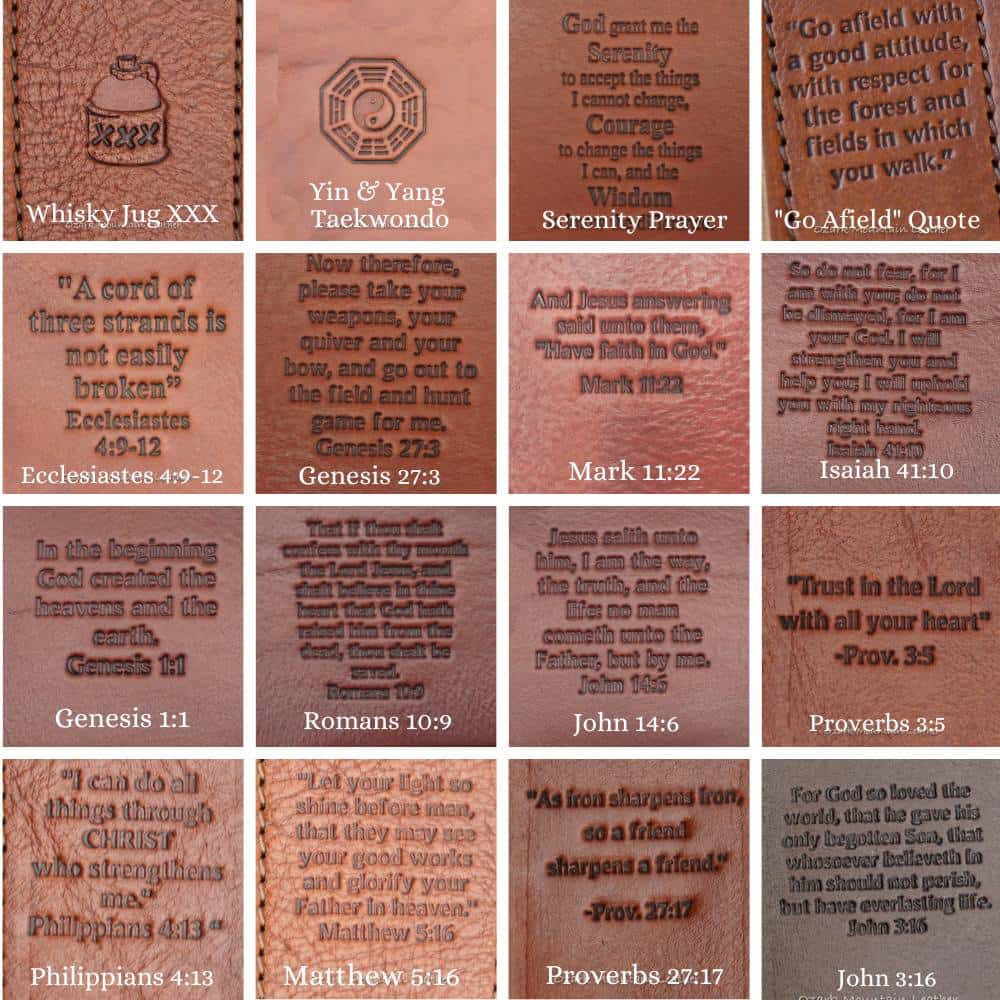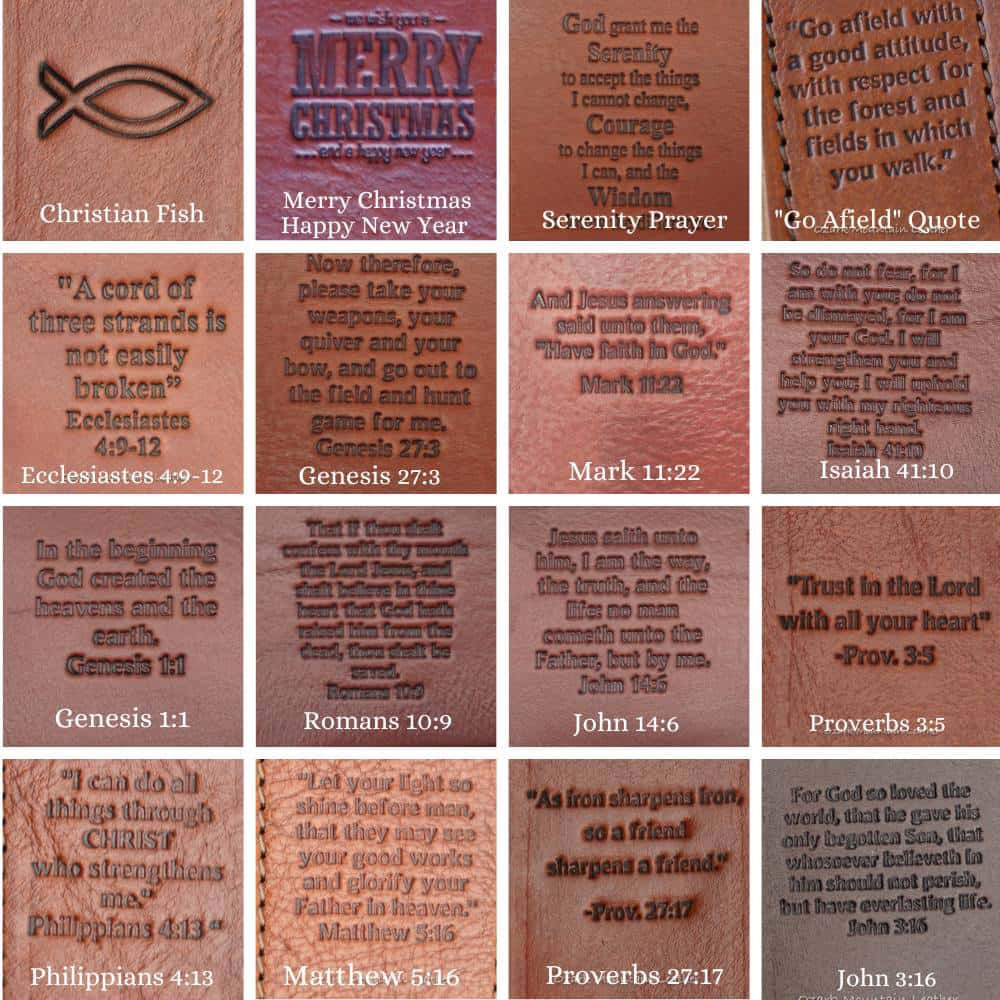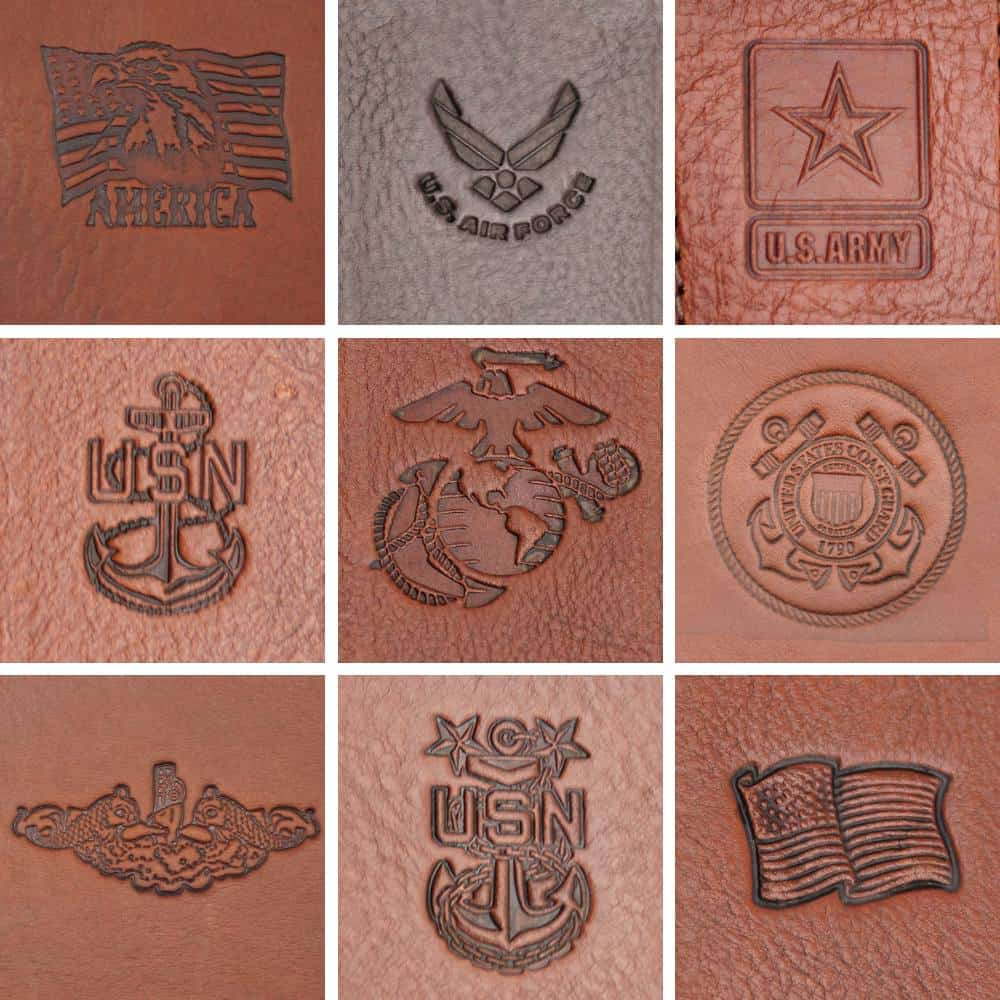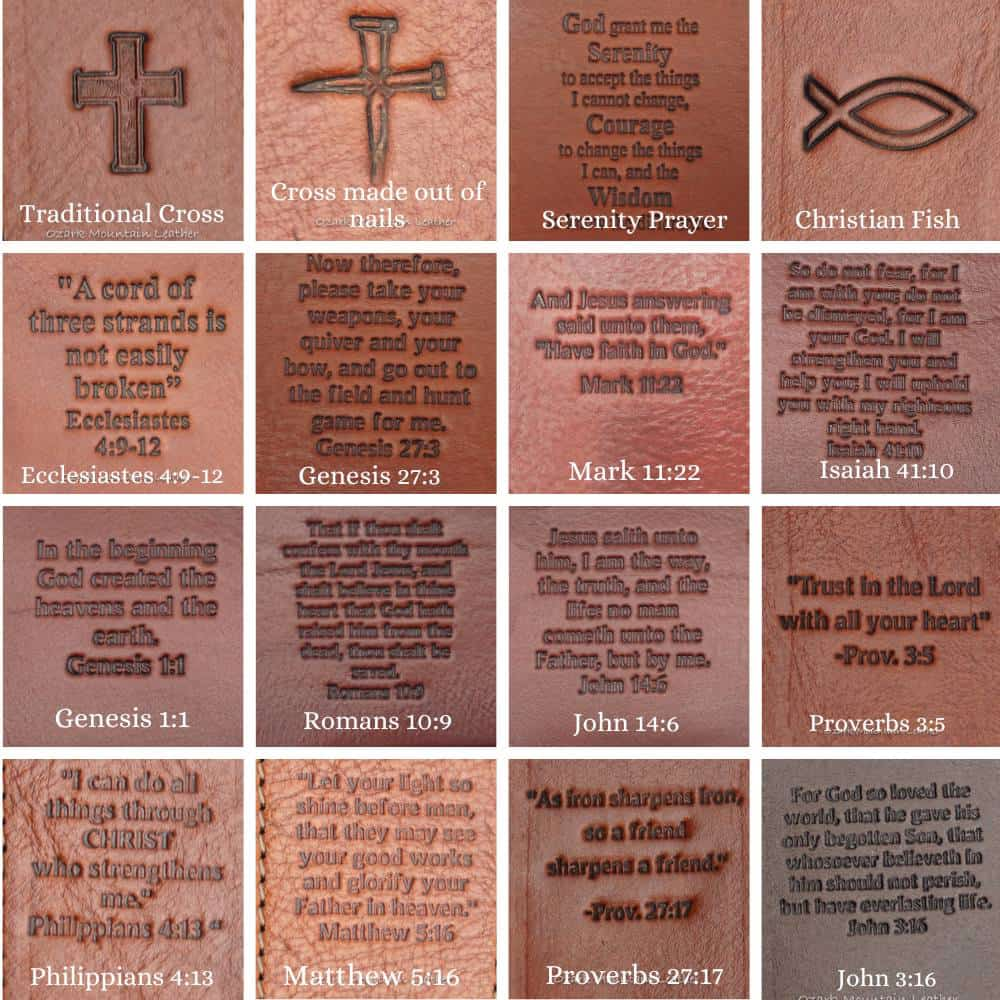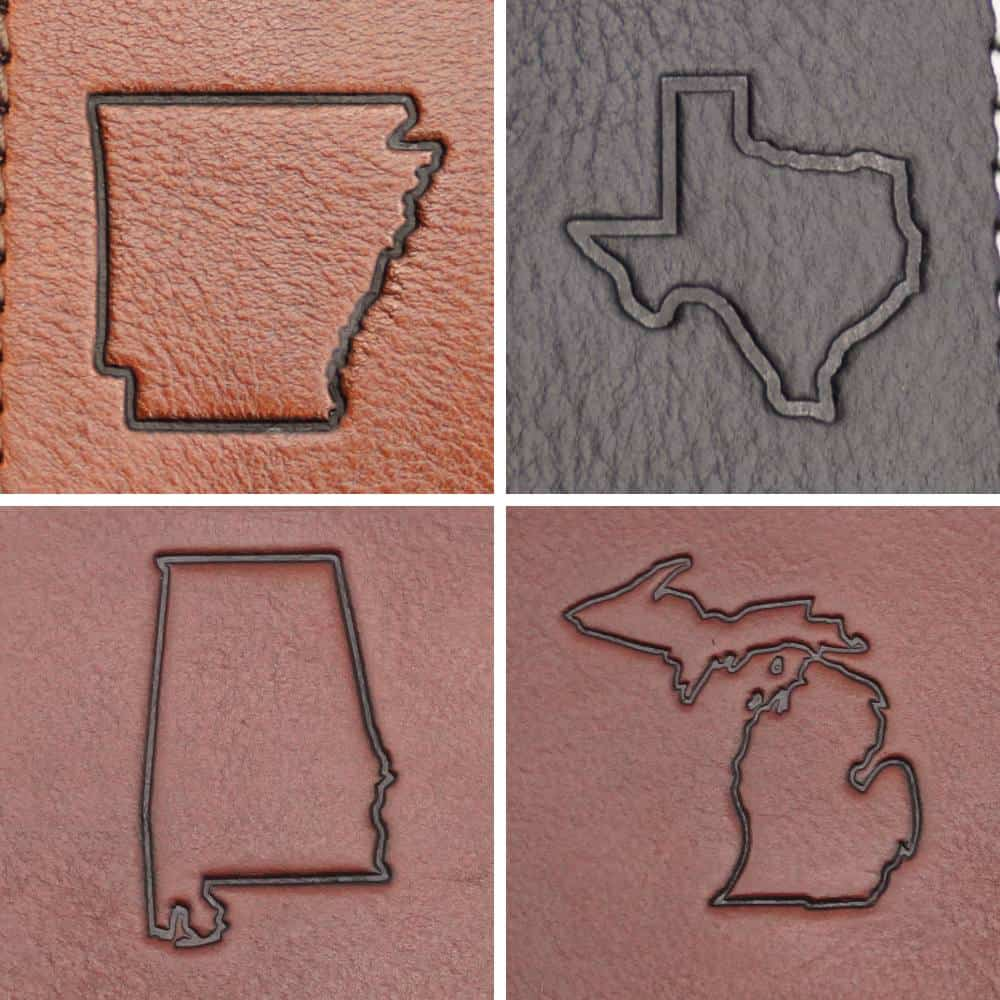 Here is a current list here as of 5/11/2023
Animals
Bear Paws/footprints Set of 4

Bear Walking

Bird Dog

Bison Standing

Bison head forward facing

Bull Dog Head

Butterfly

Chickens

Cougar/Mountain lion Standing

Cougar/Mountain lion Head only

Coyote Howling

Deer Head

Deer Hooves/footprints set of 4

Deer skull with rifles crossed

Dove Flying

Duck footprints set of 4

Eagle head

Eagle Flying

Elephant Standing

Elk Standing

Fish Jumping

Flying bee

Flying Pheasant

Goose/duck Flying

Goose/duck Standing

Goose/duck Swimming

Lion head with mane

Lion Standing

Jumping Buck

Longhorn

Owl

Paw Print Dog/Wolf

Polish Falcon

Raccoon

Rams Head

Wolf Face

Wolf howling

Wild Hog Standing

Turkey

Turkey Footprints set of 4

T-Rex Dinosaur

Skull deer horns

Snake coiled

Squirrel

Sheep Standing

Running horse

Running Arkansas Razorback

Rooster Standing
Military/EMT/Fire/Police
US Air Force

US Army

US Marines - Eagle/Globe/Anchor

US Navy Anchor

US Navy Submarine Dolphin

US Coast Guard

USN Anchor Master Chief 2 stars

2nd Battalion Ranger

15th Aerospace Medicine Squad

US Marine Crop Explosive Ordnance Disposal Master Badge

US Marine Crop Explosive Ordnance Disposal Senior Badge

Army Chaplain Corp Seal

"Defensor Fortis" Air Force Security Forces

Parachutist badge

Fire Department Crest

Medical Symbol/Staff of Asclepius (single snake)

New Mexico State Police Badge

Sheriff 5 point star
States/Country
Arkansas state outline

Alabama State Outline

Japan Country Outline

Maryland State outline

Michigan State Outline

Texas state outline

Canadian Flag

American flag

Mississippi
Scripture/Religion/Quotes
Celtic Cross

Christian Fish Symbol

Cross Traditional

Cross made out of nails

Ecclesiastes 4:9-12

Genesis 27:3

Genesis 1:1

Isaiah 41:10

Isaiah 40:31

Job 12:10

John 3:16

John 14:6

Mark 11:22

Matthew 5:16

Philippians 4:13

Proverbs 27:17

Proverbs 3:5

Psalm 42:1

Serenity Prayer

Praying Hands

Romans 10:9

"Go Afield" Quote

Stag Quote

Ephesians 5:25

Psalm 103:1
Auto/Boat related
Motorcycle

Semi-Truck

Train

Anchor

Ships Wheel

Wings "LIVE TO RIDE"
Patriotic
"America" Flag with Eagle Head

American Flag

Freemasons Traditional Square & Compass

"USA" Stamp

Eagle Scout emblem
Firearm related
Bullets side by side

pistols crossed

Deer skull with rifles crossed

Rifles crossed
Floral/Outdoor scene
Daisy/sunflower flower

Lily flower

Rose flower

Rose with leaves

Log cabin

Mountain Range

Pine Trees Grouping of 4

Hemp Leaf

Four Leaf Clover

Single Feather
Sports
Football

Baseball/softball

Yin &Yang Taekwondo

Cowboy Hat
Misc
ALS Ribbon

Anglo Saxon Mask

Arrowhead

Broken Heart with wings

"Camp" with Tipi over it

Cancer Ribbon

Dollar Sign Symbol $

Fleur De Lis Symbol

Hashtag Symbol #

Heart with Lace

Indian profile with Headdress

Love - "V" shaped like heart

Confederate Flag

Skull and Crossbones

Whisky Jug XXX
We love what we do and would love to make you a custom leather rifle sling or custom leather shotgun sling today. Quantity discounts available. These make great gifts for weddings, groomsmen, hunting buddies, family and friends.