Posted by Ozark Mountain Leather on Sep 8th 2020
What to Look for in a High-Quality Rifle or Shotgun Sling

There are a few factors to keep in mind when you are shopping for a sling online. While there is a focus on comfort and adjustability, you should also look at the type of leather and the look of the sling. Just because it will be used in the outdoors does not mean it should not look nice and represent you well.
Comfort
One of the big things to keep in mind is comfort. If your gun is heavy, then you may need a broader sling to handle the weight evenly. Having a wider sling at the shoulder reduces the stress and prevents the sling from digging into your shoulder. Our cobra style slings are wider at the shoulder and help relieve some of the rifle or shotgun load. All of our slings are a double layer of leather, which creates the padding on the shoulder. This extra layer of leather makes the sling thicker and reduces the pressure on the shoulder from the weight of the rifle or shotgun. If you carry a hunting rifle or a heavy shotgun, then the padding makes it more comfortable. We do not use artificial foam, wool, or synthetics to pad our slings. The foam padding and wool will flatten out over time and can also collect water if the weather was rainy or you were in wet terrain. We use full-grain leather in our slings. Our sling leather is soft yet durable and feels good to the hand. Your sling does not arrive stiff like some other leather slings do. You will feel comfort the moment you put it on.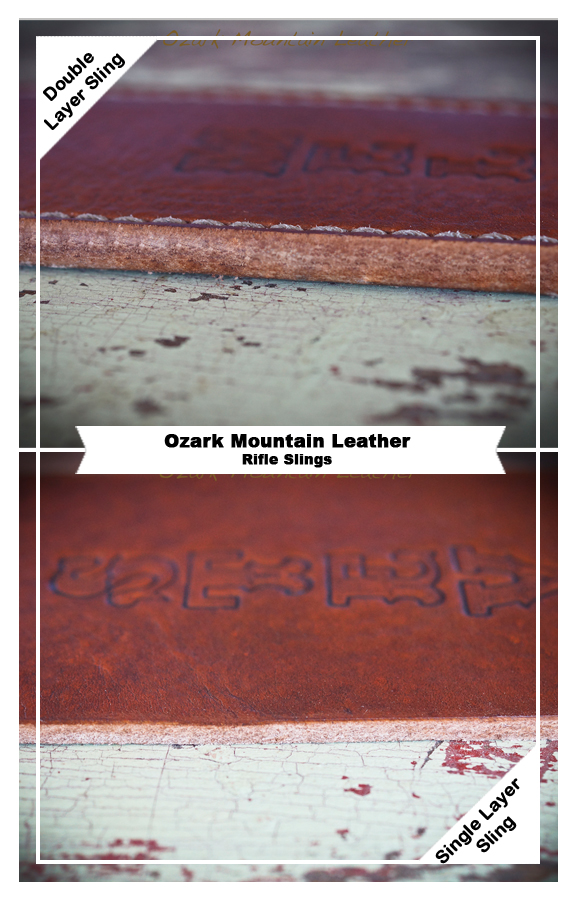 Design
Most rifle slings are designed for many different body types, which means they will be adjustable. All of our slings are adjustable. We have even developed a youth sling. Our youth sling was designed to grow with them for several years and possibly into adulthood, depending on their size. Most slings show adjustability in inches. Our slings start at 30 inches and go up to 42 inches. We have been known to customize a sling length for our clients, so they get the perfect fit. If you feel you need something smaller or bigger, please feel free to contact us.
Purpose
What are you using your sling for? Are you using your rifle sling to strictly hunt? In this case, you'll want a heavy-duty sling that makes it easy to carry over rough terrain. A good hunting rifle sling will prioritize comfort over convenience, but you do not have to settle for a generic sling to get this look that matches your personality. At Ozark Mountain Leather, you get a durable, adjustable, and comfortable rifle or shotgun sling. Our slings are heavy-duty, comfortable, and adjustable to your body size. They also don't look too bad, either.
Leather
Our slings are made from high-quality cow leather. Our leather is a vegetable-tanned leather specially treated to hold up to the elements. Leather is the traditional choice for a sling, but you don't have to settle for quality over cost with our slings. We feel our slings our very affordable for what you get. Our slings are built to last a lifetime. Leather is durable, strong, and won't let you down.
Two Point Slings
The most common type of sling is the two-point sling. These slings attach in two places on your rifle or shotgun and are designed for comfort and stability. These are popular slings for hunting.
There is a lot of support and adjustment availability with the two-point sling. They won't allow your weapon to move around, which means that it will stay tight against your body. As you hunt, you can easily climb over obstacles, set up camp, carry deer, and adjust what you need without having to worry about your weapon bouncing around too much. Our Build your own rifle sling is a two-point sling. You must have rifle sling swivels or swivel studs to be able to accomodate this type of sling.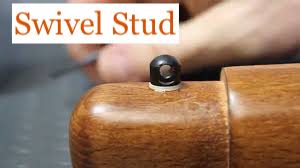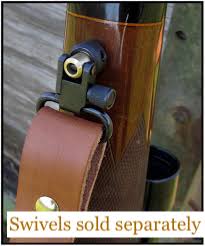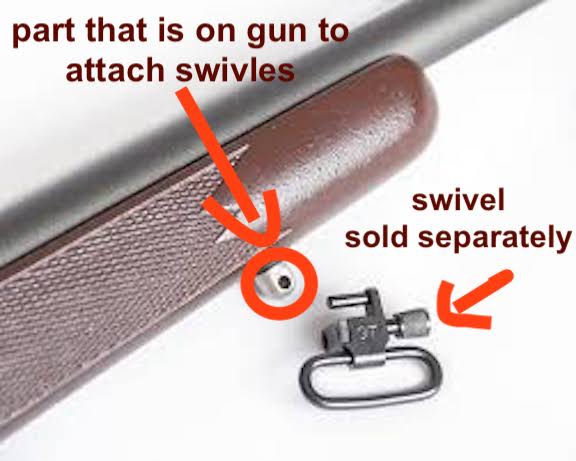 Shotgun slings or Slings for guns without swivels or No drill slings
Our "Build your own Shotgun sling" is a sling made for a shotgun or rifle that does not have the swivel studs or sling swivels. This sling slides over the barrel and the stock of the gun. The look, leather, and feel are all the same, but the fit to the gun is slightly different from our rifle slings. This sling can be used on almost all rifles with or without sling swivels since no hardware is required. These slings are still adjustable and customizable to fit your personality.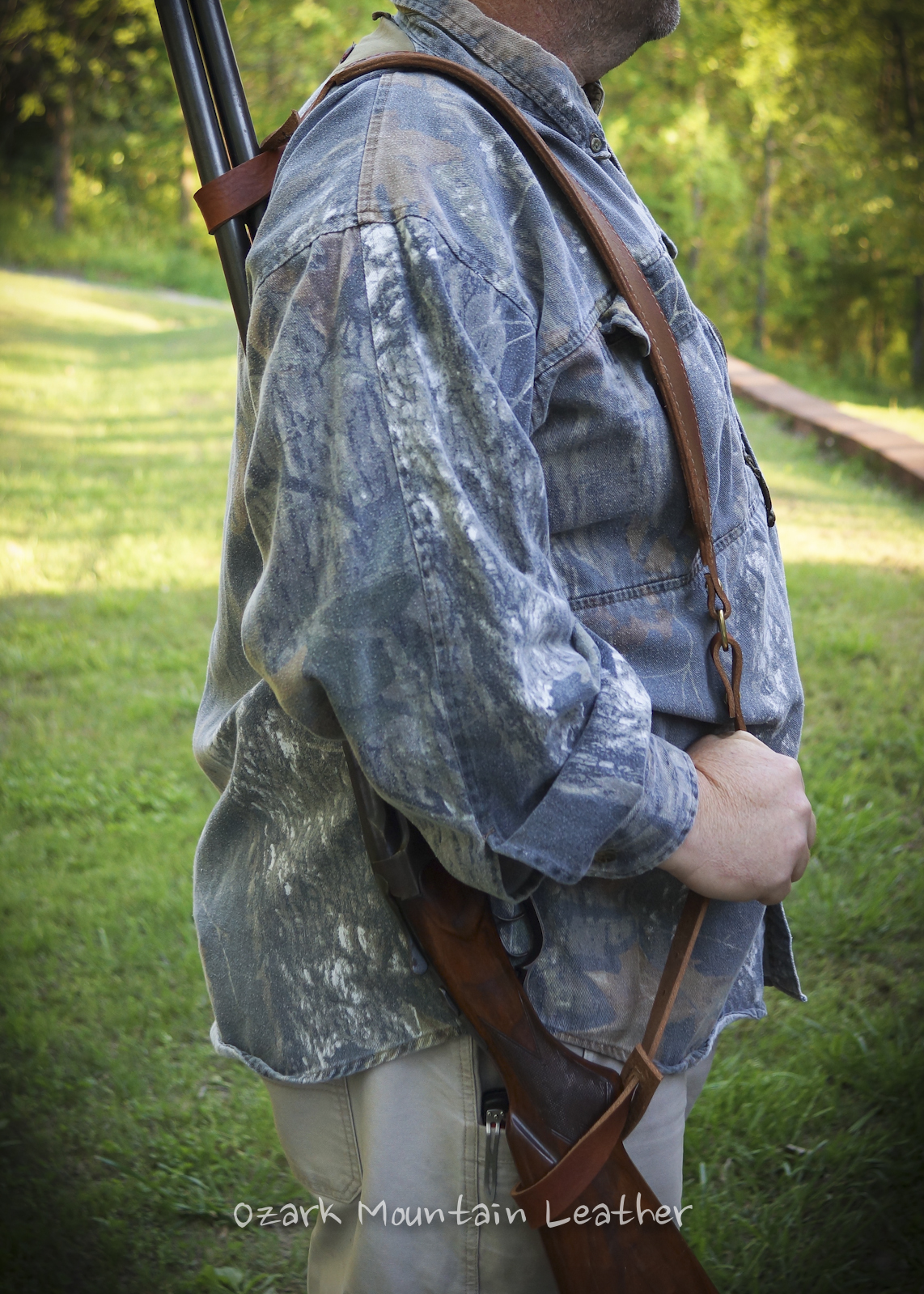 Choice
The utimate choice is up to you but we feel you won't go wrong with an Ozark Mountain Leather™ rifle sling or shotgun sling.